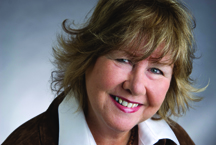 Robbie Adkins is a design/marketing/communication generalist with hands on skills in many different areas – from simple graphic design production to coordinating the launch of a new product or company.
After receiving her Bachelor of Arts degree in Graphic Communication and Illustration, her varied career gave her the opportunity to develop in many areas beyond those disciplines. With positions ranging from magazine art director to corporate communications director, she developed visual, written, event planning, trade show management, training, documentation, and branding skills that give added value to work she does for her current clients, without regard to the size of their projects.
The wisdom she has aquired is freely shared, especially when it contributes to successful experiences.
Her focus today is to understand her clients needs and then create powerful visuals and messages, quckly and effectively. Because she works on her own, the costs for generating this high level of work is surprisingly reasonable and she provides cost estimates before beginning any work.
She is eager to hear about your visions and partner with you to help you bring them to life.
AWARDS
Guest Editor, Mademoiselle Magazine
Best of Show, San Diego Art Directors Club
Gold Metal, LA Art Directors Club
Maggie Magazine Design Award
Acxiom Excellence Award
Photo: Carl Kravatz